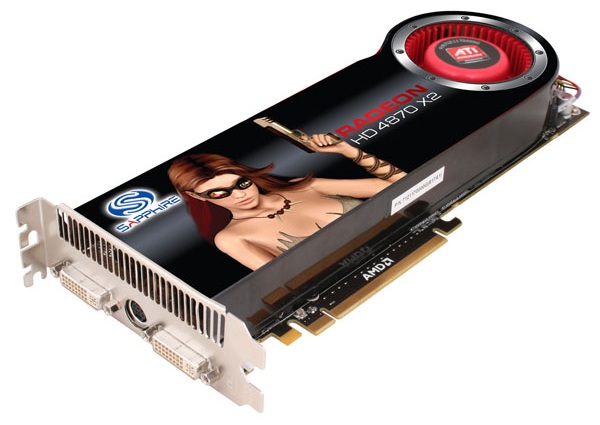 Sapphire HD 4870 X2 2G GDDR5 PCI-E
Well, it looks like my graphics card bit the dust with only one year of light usage. I was running a Sapphire Radeon 4870 X2, which was a nice video card for the time that it was operational. It probably wasn't worth the investment considering the Radeon HD 5xxx series was right around the corner with massive improvements in throttling and Direct X 11 support, but the Radeon 4870 X2 was still a very powerful, brute force graphics card.
I just put in a few support tickets. Hopefully Sapphire customer support will get back to me in a timely manner with some pleasant news. Maybe 10 years ago or even 5 years ago, but these days you just don't expect to see this type of hardware failure.
For those of you that would like to follow along with the progress or are curious about what happened to my graphics card, here's the contents of the support tickets:
08/02/2010 – 13:10

Sapphire Support: Please provide a copy of the purchase receipt and send it to tech@althonmicro.com for RMA service.
08/02/2010 – 12:30

Customer: Here's an update along with photographs and a screenshot. I turned the computer on today (it was off over night) and immediately met artifacts upon boot. As you can see from the photographs there is corruption beginning even during BIOS and before entering Windows. I also attached a screenshot taken immediately after logging into Windows and loading the HWM and CCC. It was difficult to find the icons due to the artifacts. The video card is now removed from this system and I am running an 8800 GTS as a temporary solution as this is my primary computer. Everything is normal when I remove your video card. Please advise.

Attachment: pictures.zip
08/01/2010 – 22:31

Customer: It should be noted that upon restarting the system from a system halt due to the video card overheating, even the BIOS and POST messages are unrecognizable with blue boxes and flickering artifacts, as well as displaced sections of the screen. The video card is displaying the same behavior in another desktop which is running another Intel E8400 and an X38 chipset. As far as I am able to diagnose, the only possible solution to recover the video card is to allow it ample time for passive convection cooling to occur before powering the computer back on. Again, I am then given approximately 5 minutes to override the fan speed controls unless I save these settings to permanently load with Windows login, which I have yet to do as such a thing was never necessary to begin with. I've always left this video card at it's stock settings, and I would like to keep it that way. Please advise.
08/01/2010 – 22:18

Customer: Recently, my video card has been getting very warm and once it reaches 70 degrees Celsius, the computer quickly begins to artifact until everything is no longer legible and then the system halts. The video card must then be given proper time to cool off. It takes only 5 minutes from a cold boot before these problems occur. As a temporary solution (to allow me to write this support ticket), if I am quick enough I can override the fan speed settings upon the first hint of artifacts before the system is compromised, as shown in the attachment. The tiny blue boxes and other artifacts then magically disappear. There appears to be nothing blocking the air passage through the video card's cooling system and very minor traces of dust. The video card was purchased last year, the computer has very good cooling with no measurable dead spots in ventilation and I am a very experienced system builder. Please advise.

Attachment: temps.jpg